Strategic International Business Management : Tesco Future International Expansion Strategy
Table of Contents
Tesco's Market Entry options and Key Issues. 9
Introduction
Tesco PLC is a British multinational retailer involved in general merchandise and grocery. It is ranked no 2 in the top 250 global retailers 2012 ranking by retail revenue of USD $101.3B as mentioned in the Deloitte's Global Powers of Retailing 2014 report. The growth to become one of the top retailers in the world has been aggressive and began with acquisitions from 1957. With strong experience in the UK home base market, Tesco's venture into the overseas market was inevitable with the first venture to be in Hungary in 1994. To date it has presence in 12 markets including the UK Market. Based on 2014 Annual report Tesco currently has 3378 stores in the UK, 2417 stores in Asia and 1510 stores in Europe which totals to 7305 stores.
Entering into a new market is a challenging endeavor, however with the right strategy and the ability to react accordingly can make a difference on success or failure. Tesco is not new to the exiting strategy of where it has left the Taiwanese market in 2005 and recently the American market in 2013 by selling its business to existing rivals. With lessons learned from the American market, Tesco should consider venturing into emerging markets where potential for growth is high and with low competitors.
Tesco's current strategic priorities are (Tesco Plc, 2014)
Continuing to invest in strong UK Business
Establishing multichannel leadership
Pursuing disciplined international growth
In Pursuit of Expansion
In pursuit of expansion, especially internationally; proper research, resources and good partnerships is necessary to ensure continuous success in the business. Tesco's established strategy of "pursuing disciplined international growth" is used as a guideline for selecting the next potential country for expansion.
Currently Tesco is based in Asia (China, India, Malaysia, Thailand & South Korea), Europe (Czech Republic, Hungary, Turkey, Poland & Slovakia) and UK (Ireland & England). (Tesco Plc, 2014)
In selecting the next country for expansion, an evaluation of the countries prospect and stability is required. The PESTEL framework will be used to review the selected country to understand and ensure its suitability for expansion.
Emerging markets would be the ideal venture countries to be considered for expansion opportunity. The BRICS group and the Next Eleven (N11) group is considered for expansion potential. The BRICS group is the acronym for Brazil, Russia, India, China and South Africa. Wikipedia article on BRICS classifies the countries as fast growing economies with significant influence on regional and global affairs. (Wikipedia Contributors, 2014). It's to note that Tesco has already expanded into the BRICS with efforts in India and China.
The Next Eleven as Goldman and Sachs have grouped them consists of Bangladesh, Egypt, Indonesia, Iran, Korea, Mexico, Nigeria, Pakistan, Philippines, Turkey and Vietnam. (Goldman Sachs Global Economics Group, 2007). It's to note that Tesco has operations in Korea and Turkey currently. Upon further evaluation of the countries of N11 and BRICS, suitable country for expansion based on current economic and political environment would be Vietnam. Vietnam has similar characteristics politically and culturally to China and Thailand where Tesco has already been operating for a number of years. Forbes ranks Vietnam at 113 (Forbes, 2013) of their Best countries for business and the Economy Rankings (Doing Business, 2013) puts Vietnam at 99. However it is to note that the same Economy rankings put China at 96 and India 134 where Tesco is operating.
Vietnam in overview
Vietnam is a growing market in the South East Asia with a population of 93 million estimated for 2014 making it the 15th most populous country in the world. The "Doi Moi" policy implementation since 1986 which is the government's initiative to improve the economic and political reforms has allowed for increase in foreign inflow of investments (CIA, 2013). Joining the World Trade Organization (WTO) in 2007 allowed the economy of Vietnam to improve with access to funds and trade countries. Vietnam has 659 supermarkets based on 2012 statistics from General Statistics office of Vietnam and this figure is poised to grow reviewing previous year numbers.
PESTEL framework
Political
Politically Vietnam is a Communist country with policies concerning government being strictly controlled.
Review of the political situation through the SWOT analysis tool
Helpful
Harmful
Internal
Strength
Weakness
·      Commitment of the Communist Party government to market reforms. (Doi Moi Reform).

·      Increase in trade & relations with US (lifting of sanctions in 2000's) and the WTO(2007).

·      Corruption

·      Possible public unrest of single government rule.

External
Opportunities
Threats
·      Recognition of the corruption and acts against it by the ruling government.

·      Setting up of constitution for comments by public and legislators

·      Relations with china deteriorated due to territory dispute.
Figure 1 : SWOT – Vietnam Political Overview
Based on above SWOT review, it can be concluded that the government's effort is visible in ensuring economy prosperity to continue. However, change towards democracy can be damaging if the general public decides to go against the government. It can be deduced from the CIA Factbook that with the current government's continuous efforts, chances for an uprising is unlikely for the next decade as policies implemented allows general public's involvement.
Economy
Below table is the macro economy outlook of Vietnam in overall (CIA, 2013)
Year
GDP

(USD Billion)

GDP Growth Rate (%)
Per Capita Income (PCI) (USD)
2011
323.8
6.2
3700
2012
340.8
5.2
3800
2013
358.9
5.3
4000
Figure 2: Vietnam economy outlook
The 2013 household consumption is at 68.9% of the GDP based on CIA Factbook. This shows that there is potential for retail market development. It is to note that the labor force of this country is 52.93million of which 48% is in the agriculture and the rest 52% is in service (31%) and industry (21%) with a total unemployment rate at 1.3% (CIA, 2013).
It is to note that even though the labor market ratio is leaning towards the agriculture, however based on the GDP ratio, industry contribution to GDP is 40%, service with 38% and the remainder 22% goes to agriculture sector. With the above figures it can be summed up that 52% of the labor force actually generates 78% of the GDP which is significant to the economy growth.
The inflation rate for 2013 is at 6.8%. With the increase in PCI, the ability for consumers to spend increases ideally allowing spending to continue. Household income or consumption by share for lowest is at 3.2% for the lower 10% and 30.2% for the highest 10% (2008).
Infrastructure of the country is good with roads, railway, inland water ways, ports and airports supporting the economy. For Tesco this would assist the distribution networks.
Social
Vietnam is a country rich with culture and history. Buddhists make up the majority of the population with 37.4% percent of the population (Stewart, et al., 2012). Vietnam remains a traditional, conservative society, particularly the senior generation which fought for the country. Due to wars restraint and moderation, their overview of the consumer culture is still cautious. However the younger generation is opening up to the consumer culture by adapting the future trends. All the previous incursions indefinitely left a mark with the "Chinese bringing Buddhism, Taoism and the principals of Confucianism: Community above individual, a respect for education and family" (Stewart, et al., 2012).
Vietnamese is the official language of Vietnam. However with the advent of the west, currently many adapt English as a second language. Literacy rate is at 90.3% in 2008 (Wikipedia Contributors, 2014).
Technology
The communication and internet infrastructure in Vietnam is conducive to allow for exploring the online retail ability. Currently Vietnam has 23.38 million users online which ranks to be 17th in the world (CIA, 2013). Tesco's online business would be able to capitalize this available resource to create more revenue.
Environment
Vietnam is a country with a coastline of 3,444km and densely forested with 40% of the lands covered with mountains. Northern Vietnam has a humid subtropical climate, southern regions are tropical savanna climate with high humidity and distinct wet and dry season. (Wikipedia Contributors, 2014).
Legal
Following the "Doi Moi" policy, Vietnam passed its constitution in 1992 to strengthen its legal institutions and allow for communist party led economic development. The legal framework takes into account the international requirements and the agreements to ensure integration is met. Several laws have been enacted which includes but not limited to civil, labor, enterprises, investment, tax administration, corporate income tax, VAT, land, commercial and etc.
The judicial systems are in place to ensure the legal system is governed fairly.
Five Forces Framework
Porters five forces analysis is used to analyze the external environments and understand the strength and weakness of the potential Vietnamese competitive position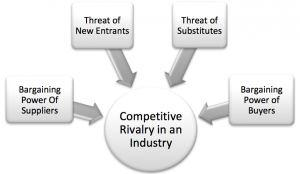 Figure 3: Porters Five Forces Framework (Hitt, et al., 2011)
The competitors are international and local. Nielsen Report lists the international companies as Metro (Germany), Lotte (Korea), Giant (Malaysia), Maximart (Taiwan), Big C (Thailand)
Local companies that operate supermarkets are Citimart, Hiway, Satramart and a handful others. The local companies operate most of the minimart and convenience stores.
Opportunity is available for Tesco to introduce its brand of shopping with great service, price/value and with its range and quality. The online shopping is also an opportunity for Tesco to explore further.
Tesco's advantage over the smaller marts is its ability for being a one stop location for all daily needs. Shoppers have a tendency to spend at larger shops and with that suppliers have the ability and access to a bigger market. Ability to purchase in bulk allows Tesco to dictate the price and disagreements leave suppliers a loss of a big customer. Tesco's own in house brands and ability to source internationally when necessary is good for consumers.
The buyers are in control with the choice of available retailers. Tesco needs to be conscious of customers' requirements. Based on Vietnam grocery report, consumers are tightening their belts and price is considered their main choice of selecting a product. The consumers are keen on promotions and bulk purchase (Nielsen, 2012). With low switching cost to the buyer, probability to choose Tesco is high.
Threat of New Competitors – Low
Capital Investment in starting up a supermarket is high, hence the probability for entry and competition is low. However, renowned competitors such as Walmart, Carrefour, Metro and other external competitor entry are possible with the government's open door policy.
Substitute Products and Services – Low
Substitute options in the grocery and retail industry is high and with low or no cost of switching to the customers. Tesco's bulk purchasing allows for low costs offers and consumers switching over can be controlled. Introducing loyalty cards such as Tesco's Clubcard helps retain customers and reduce switching.
Tesco's SWOT Analysis
Helpful
Harmful
Internal
Strength
Weakness
·      Tesco Online

·      Brand Value

·      Leadership

·      Reliance on UK market

External
Opportunities
Threats
·      Tesco Online worldwide

·      Diversification of offerings

·      International

·      Price war

·      Competitors (Walmart, Carrefour, Metro)

·      Rising operations costs
Strength
Tesco's brand being world known is an advantage that can be taken to further improve services and introduce more products to gain consumers' confidence in the new market. Tesco's leadership and vision to continuously improve products range/price and services for customers is a great trait. The leadership is continuously looking to increasing market share and venture into new markets based on the Tesco's 2014 annual report.
Weakness
Tesco relies heavily on the UK market with 68% of the group revenue coming from it. Although this can be seen as a strong point, however with entry by Walmart by taking over a local competitor can be detrimental to future growth.
Opportunities
Tesco's international expansion efforts into Asia is an opportunity. With developing economies and stability in many Asian regions, Tesco can benefit greatly if the expansion is carried out in a controlled and disciplined manner.
Threats
Potential for price war between competitors has always been in existence. Continuous price wars can reduce margins with the ever increasing costs in the operations. Constant vigilance and review of the price is required to ensure profitability is maintained.
Tesco's Market Entry options and Key Issues
Due to exit from the North American market, Tesco management has set group wide limit to capital expenditure on expansion and upgrading to £ 2.5billion for the next 3 financial years. The Chairman indicated that there is a need to create value internationally by leveraging skills and scale in relatively rapidly growing economies with less developed modern retail sectors. Where the rate of economic growth coupled with switching to modern retail outlets can generate attractive returns. These requirements can be met by Vietnam if executed in retrospect to Chinese and Indian investment methods where a strategic alliance was made with existing local partner that were experienced in local culture and regulations.
Johnson et al, lists four market entry modes that consists of
Exporting
Joint Ventures and Alliance
Licensing
Foreign Direct Investment (FDI)
The above options each comes with its advantages and disadvantages. With consideration of Tesco's set target of £ 2.5billion expansion budget for next three years, the FDI option would be opted out as it involves high capital investment. At this juncture, after the exit from North America, a cautious approach is required. However (Vermeulen, 2001) argues that the best option for expansion would be to have a Greenfield mindset. He based this assumption upon research of 825 cases of international expansion success and failures.
A joint venture with a local retailer is another option for market entry. Some Asian governments require foreign based business seeking opportunities to have a joint venture prior to engaging in business. Portion of ownership would entirely depend on the government regulations and investors.
Strategic alliance can reduce the risk through sharing of costs. However on the downside, identifying the right partner and agreeing to conditions would be a tedious task as Tesco would need to review the partners' capability prior to engaging in business. Building on Tesco's experience in the region, it is believed that a joint venture approach has borne fruit before and hence it would be good to capitalize the previous experience and expand in a familiar manner.
Conclusion
To ensure success, Tesco's best approach would be to identify and form a strategic alliance with a local Vietnamese partner. This would enable Tesco to obtain increased market size, higher return of investment and achieve economies of scale in a faster and disciplined manner. Since a well-known challenge on doing business in Vietnam is on dealing with the government related activities, engaging a local partner can partially resolve this challenge.
With the existence of good internet infrastructure and with Tesco's online retail experience, it would be ideal for Tesco to capitalize the strategic gap that exists.
Access to over 50 million new potential consumers in a country that is similar size to UK would definitely increase Tesco's revenue. With Tesco's experience in similar markets, the issue of gaining competitive advantage would be relatively easy based on its years of experience in UK and Internationally.
Bibliography
CIA, 2013. Vietnam. [Online]
Available at: https://www.cia.gov/library/publications/the-world-factbook/index.html
[Accessed 27 July 2014].
Doing Business, 2013. Ranking of economies – Doing Business – World Bank Group. [Online]
Available at: http://www.doingbusiness.org/rankings
[Accessed 26 July 2014].
Forbes, 2013. Best Countries for Business. [Online]
Available at: http://www.forbes.com/best-countries-for-business/list/#page:1_sort:0_direction:asc_search:
[Accessed 25 July 2014].
Goldman Sachs Global Economics Group, 2007. BRICs and Beyond, New York: Goldman Sachs.
Hitt, M. A., Ireland, E. D. & Hoskisson, R. E., 2011. Strategic Management : Competitiveness & Globalization. Mason: South Western Cengage Learning.
Johnson, G., Scholes, K. & Whittington, R., 2008. Exploring Corporate Strategy. Harlow: Prentice Hall.
Kalish, I. & Bearse, S., 2014. Global Powers of Retailing 2014 : Retail Beyond Begins, London: Deloitte.
Nielsen, 2012. Grocery Report Vietnam 2012. [Online]
Available at: http://www.nielsen.com/content/dam/nielsenglobal/vn/docs/Reports/2013/vietnam-grocery-report-2012
[Accessed 20 July 2014].
Statistics Doc Center, 2012. Number of Supermarkets as of December 31 annually by class and by province. [Online]
Available at: http://www.gso.gov.vn/default_en.aspx?tabid=472&idmid=3&ItemID=14618
[Accessed 27 July 2014].
Stewart, I., Atkinson, B., Dragicevich, P. & Ray, N., 2012. Vietnam. China: Lonely Planet.
Tesco Plc, 2014. Results & Presentations : Investor Event – Winning In The Era Of Retail. [Online]
Available at: http://www.tescoplc.com/files/pdf/events/Investor_event_Winning_in_the_new_era_of_retail_presentation.pdf
[Accessed 14 July 2014].
Tesco Plc, 2014. Results & Presentations : Preliminary Results 2013/14. [Online]
Available at: http://www.tescoplc.com/files/pdf/results/2014/prelim_2013-14_presentation.pdf
[Accessed 14 July 2014].
Tesco PLC, 2014. Tesco PLC. [Online]
Available at: http://www.tescoplc.com/
[Accessed 14 July 2014].
Vermeulen, F., 2001. Controlling International Expansion. Busines Strategy Review, pp. 29-36.
Viet Nam News, 2013. Retail Giants Target Vietnam. [Online]
Available at: http://vietnamnews.vn/economy/240901/retail-giants-target-viet-nam.html
[Accessed 17 July 2014].
Wikipedia Contributors, 2014. BRICS. [Online]
Available at: http://en.wikipedia.org/wiki/BRICS
[Accessed 25 July 2014].
Wikipedia Contributors, 2014. Tesco. [Online]
Available at: http://en.wikipedia.org/wiki/Tesco
[Accessed 25 July 2014].
Wikipedia Contributors, 2014. Vietnam. [Online]
Available at: http://en.wikipedia.org/w/index.php?title=Vietnam&oldid=618764618
[Accessed 28 July 2014].
Table of Figures
Figure 1 : SWOT – Vietnam Political Overview.. 3
Figure 2: Vietnam economy outlook. 4
Figure 3: Porters Five Forces Framework (Hitt, Ireland, & Hoskisson, 2011) 6